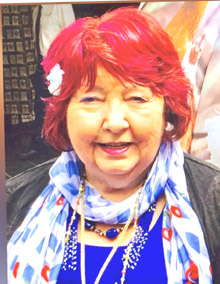 I know you believe in signs and wonders - I do too. I got this word for the Taliban - Isis - (they are the same spirit). But the Lord gave me a bit of a shock, and told me He was going to put a curse on the Taliban/Isis men because of the way they treated women.
I am not going to put the exct words because some of you guys might be offended. He told me their man parts wouldn't work properly, and it would be a curse, and they wouldn't know what caused it. I've seen God stick kids to the floor - the wall, take away their voice for a while, I've seen people not able to move- not being able to put their arms down. All kinds of things - but I hadn't had a word like this - so hello = then Pastor Kim tells me this word she had some time ago.... so here you are duckies - emphasis is you have to do what Holy Spirit tells you, its not a "pattern." Kathie Walters
Kim Kramer The Taliban/ISIS evil men.!
Well I have a true story to tell you about a woman's husband who decided to break his vow to his wife and run off with another woman. So here goes:
Many years ago while ministering in a church in Greencastle, IN. An older prophet women who I had taken with me on this trip, approached me about her daughter's marriage, which was falling apart.
As she spoke to me I saw what was happening. I told her to have her daughter come see me. She did and as the daughter began to tell me what had happened I then asked her what she wanted..Did she want her marriage restored, or was she going to divorce him? because he had just took off leaving his wife and children for this other woman.
Well immediately she replied she wanted her husband back and restored. So as she was telling me this I was asking GOD WHAT HE WANTED ME TO DO!? That's Very important ya know!
Well the Holy Spirit began showing me, and telling me what to do. To say that this was a learning curve/adventure would be an understatement. Believe me! Because I wasn't taught this in Bible College— no sir. I'd graduated into the School of the Holy Spirit, and He was knocking down sacred cows in my framework so I'd be some good in the Kingdom as His warrior, and Prophet.
So THIS is what I saw and heard GOD say to me as a prophet of the Living God …"Her husband had broken his vow to his wife and GOD said said to call forth those THINGS that are not as though they were, and so shall it be established by our Father in Heaven. He also said where two or more are gathered there I AM in the midst of you and whatever you ask My Father in Heaven believing IT shall be done/" (Now I was hearing this as I was seeing the what it was that needed to be done) so I called forth and decreed that her husband would be impotent with this other woman, and she would not be satisfied with him.
That it would be a sign to him of his vow to his wife that she only is the one to be taken to his bed & return home to her. Then the marriage would be healed & restored. Not my will but Your will be done Father GOD. In JESUS CHRIST Name amen and amen!
Later, the daughter called me with the good news that her husband had returned to her and the children.. GOD had intervened. Just "ONE PROBLEM" he was still "IMPOTENT" and she asked her Mom (my friend) what to do, and she told her daughter she'd better call Prophet Kim to then bless their union/marriage.
As I said this was 101 Holy Spirit on the job training. So I blessed them, and especially him to be able to perform his husbandly duties, and satisfy his wife only in doing so. And it worked!
Remember Jesus taught that when we pray /decree/call forth whatever your comfortable with calling, it that we MUST BE SPECIFIC! Otherwise we are like a reed blowing in the wind and we profit the Kingdom of GOD…Nothi
ng!
BACK TO THESE ISIS/Taliban Men who probably have several wives while they are out there molesting raping other women, girls & boys, and doing all kinds of evil to their bodies Why can't we decree over them likewise? Answer is WE CAN if you will only believe in your heart and leave it in GODS hands. He will execute the judgement do them and watch over His Word to perform it.
So I will stand with Kathie Walters and like believers that these wicked ISIS/Taliban will become impotent NOT being able to molest and rape other human beings, and let it be as a SIGN to them to stop molesting and killing these PEOPLE.
May they start dropping like flies from the air IF THEY DO NOT REPENT! Let them be made a spectacle among their Kind!!! Nevertheless FATHER GOD Your Will, Way, Word be done!!!
In JESUS CHRIST NAME the NAME ABOVE ALL names. Amen and Amen!!! Prophet Kim Kraemer
Thank you so much for praying for us and blessing us...thank you for being part of our glory train ...jump on we are going places www.kathiewaltersministry.com

%%detect_both%%

Thank you for all your support and prayers: Paypal kathiewalters@mindspring.com and thank you so much!